Although figures vary between different UFO organizations and groups, just under half of all UFO sightings take place near to a significant body of water. This statistic alone creates many theories as to why this might be. Some believe "alien bases" reside deep down at the depths of the Earth's oceans, seas, and lakes. Others speculate that these cosmic crafts use the underwater world as a way to traverse the planet. Some even go as far as to suggest that "portals or gateways" may exist, or be created under the water, which allows travel to elsewhere in the universe.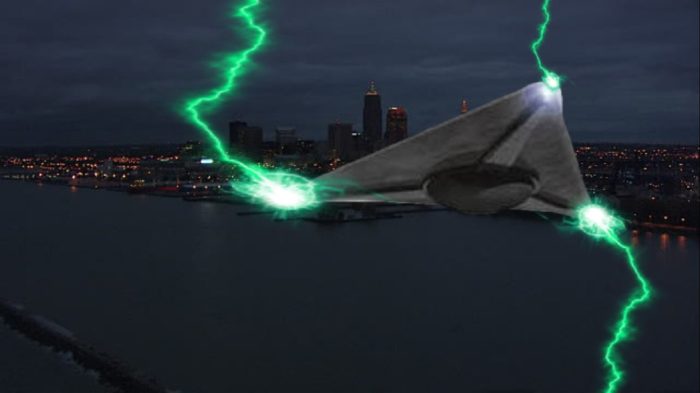 One of these bodies of water, Lake Erie – one of the "five great lakes in North America"- is one that has a plethora of UFO sightings to its name. The ancient lake runs from the Ontario Peninsula in Canada and has shores in four US states. One of these US states, Ohio, was the subject of a highly detailed sighting of a strange, and still unexplained object in March 1988. Not only were there multiple witnesses to the events, these would include two members of the Ohio Coastal Guard, who would make an official report.
Before we look at the Baker case in more detail, check out the short video below. It is from September 2010 and is just one of many pieces of footage of strange aerial craft in this part of the United States.
Increased UFO Sightings In Ohio?
As we mentioned in the opening, Lake Eire, of all the five great lakes, has a long UFO history. And much of that activity seems to occur in the Ohio area. Perhaps it is coincidence that Wright Patterson Air Force Base – a base synonymous with UFO sightings and recoveries – resides in Dayton, Ohio. We have also examined before the sighting of a UFO from two separate experienced airline pilots in February 1995 near Cleveland, Ohio. One of them would even attempt to open communications with the apparently otherworldly visitor before it vanished from sight.
What perhaps makes this particular stretch of water stand out is that reports of such sightings in the many local publications are on record right the way back to the 1800s. In contemporary times, numerous videos are on YouTube claiming to show sightings of strange lights and objects in the skies over Ohio and near Lake Erie.
In 2007, local station News Channel 5 would run a story on Cleveland's UFO sightings. According to their research, between 2005 and 2007 over twenty UFO sightings had been reported to authorities. Almost all of them near or around the mysterious lake. These sightings continue in abundance today. Whether of importance or not, one local UFO research, Richard Lee, would state that sightings seem to increase whenever any significant building projects begin.
The short video below features several different news clips and footage of alleged sightings. While the opening section is the same as the video above, it then looks at several other incidents. It is very much worth watching. And maybe puts into perspective just how active the skies over, and indeed the waters of Lake Erie actually are.